ABOUT THE BUILDING
Bielany Business Point is a high class office facility that meets the requirements of the A category according to Modern Office Standards Polska
.
The building is characterised by future-proof elegant architecture that delivers a modern space for business which guarantees the Lessees the highest comfort and prestige. The spectacular location ensures quick and easy connection with the centre of Wrocław, as well as other Polish and European cities.
The high finishing standard and equipment of the office building, the environmentally-friendly solutions, as well as the nearby shopping malls and sport centres all in the vicinity of Topacz castle, make the building an ideal place to work and a new Wrocław landmark.
Lessees have 12 000 m2 of modern office space finished at the "turnkey solution" standard at their disposal. The 5-floor building comprises offices ranging from 50 m2 to 2500 m2 in area. In order to ensure its users have the highest comfort, a number of facilities have been planned. Spacious and silent-running lifts ensure easy and quick movement throughout the building. The office building has a parking lot for 272 parking places, of which 141 are located in the underground garage. Lessees and their visitors have free Wi-Fi and an ATM at their disposal. Care has been taken to ensure that Lessees can promote themselves by using the advertising space allocated on the building's roof.
The glazed atrium impresses with its space and delights with light, highlighting the prestigious nature of the investment. Planned as both business space and a relaxation zone, the atrium includes a restaurant, a café and a kiosk.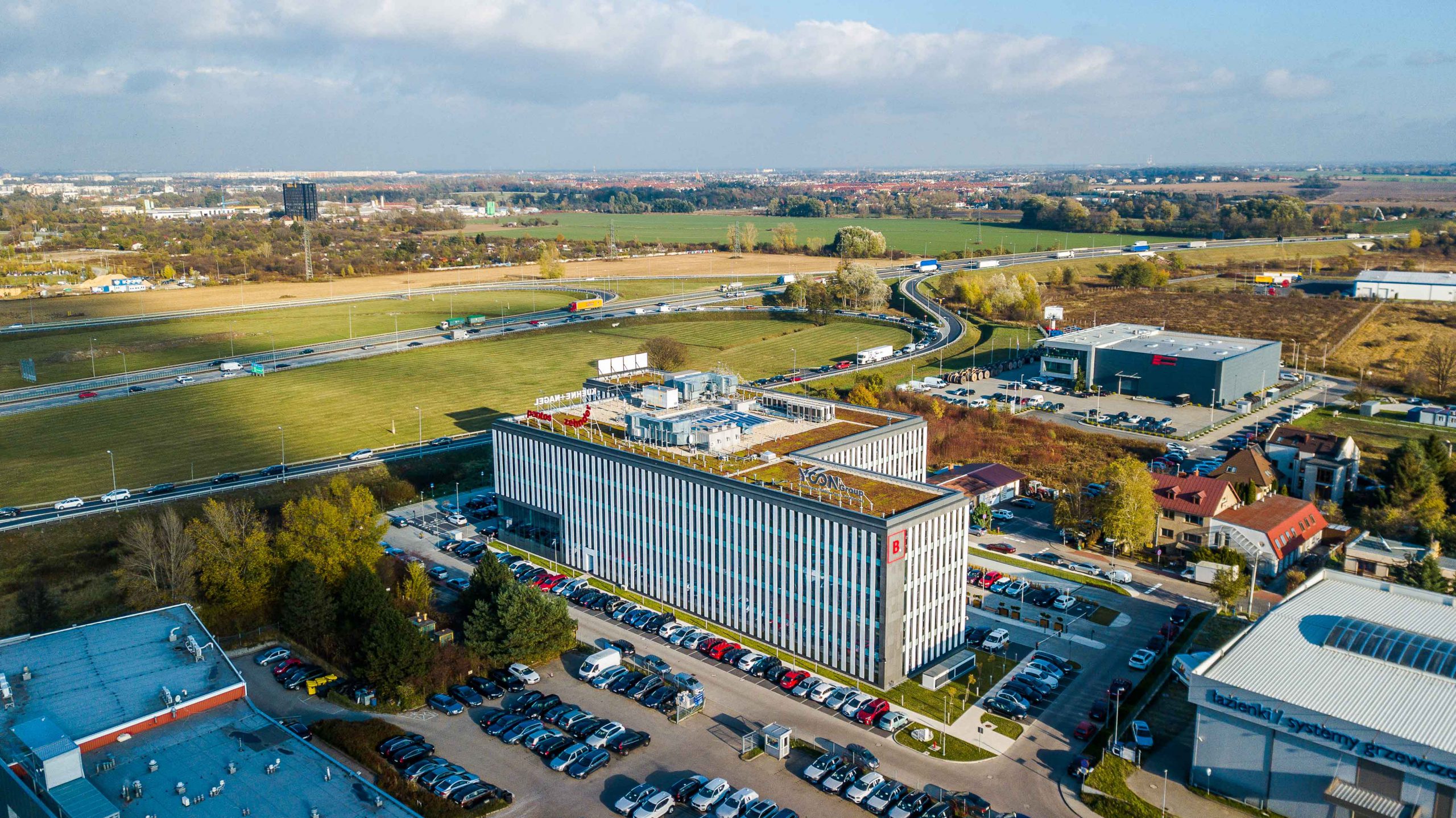 CONVENIENT LOCATION NEAR
MAIN TRANSPORT ROUTES IN CITY
LARGEST BUILDING
AT THIS STANDARD IN THE AREA
EASY ACCESS TO THE CITY CENTER
ADVERTISING SPACE AVAILABLE
ON BUILDING ROOF
WIDE VARIETY
OF OFFICE SPACES AVAILABLE:
FROM 130 M2 TO 2 500 M2
RESTAURANT, CAFE,
KIOSK, PUBLIC WI-FI, CASH MACHINE
PARKING LOT WITH 273 SPACES

STANDARD
The five-floor investment Bielany Business Point means 12 000 m2 of modern office space
.
An appropriately designed façade and ventilation/air-conditioning system contributes to high utilisation flexibility in the rented space. On each floor, Lessees have the possibility of arranging office units according to their needs: from 50m2 to a full-floor office space of up to 2500 m2.
Office rooms have a height of 3 meters. The Investor has ensured the "turnkey solution" finish standard, which covers among other aspects, an elevated floor system finished with fitted carpet, suspended ceilings and full lighting. The space was designed using the standard of one work position per 10m2.
Sanitary facilities with full equipment and fixtures, as well as kitchen rooms, are available in each rented office. The office rooms are equipped with tele-technical infrastructure and air-conditioning which guarantee the users high comfort. Tilt/turn windows also ensure access to fresh air.
Safety in the location is ensured by an access control system and fire-protection automation system, a supervisory TV system and a reception office which is open 24 hours. Additionally, the rooms on the ground floor are equipped with a burglary and assault signalling system. Consumption of utilities is calculated by the individual measurement of each Lessee.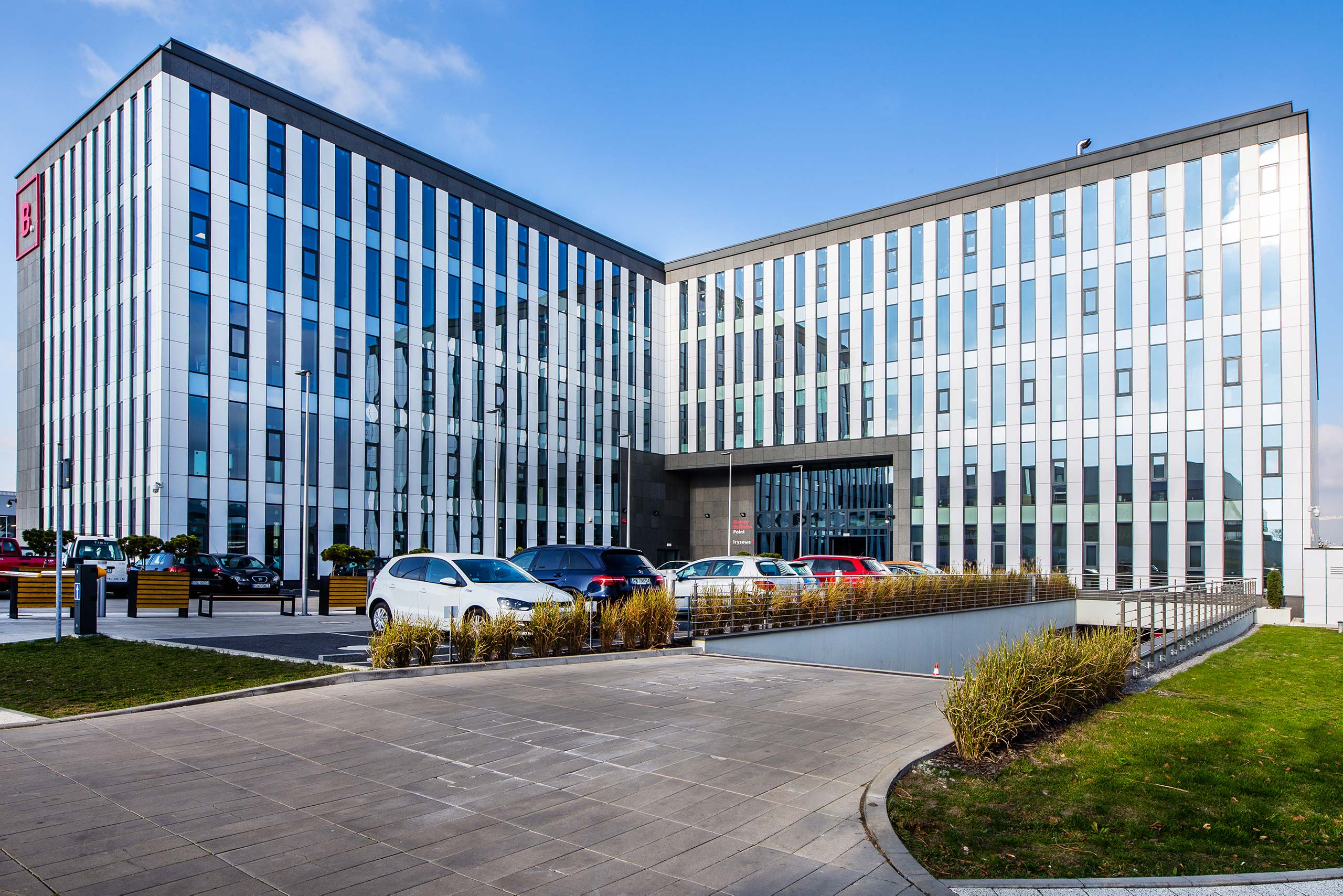 ENERGY-SAVING,
EXCELLENT PARAMETERS
AND LONG-TERM SAVINGS

INDIVIDUAL
MEASUREMENTS OF UTILITY CONSUMPTION
FOR EACH LESSEE.

OFFICE ROOMS FINISHED AT THE
"TURNKEY SOLUTION" STANDARD

MODERN VENTILATION
AND AIR-CONDITIONING

FULL TELE-TECHNICAL
INFRASTRUCTURE



DOUBLE POWER SUPPLY OF THE BUILDING

FULL CONTROL OF ACCESS,
COMPLETE MONITORING OF THE
PREMISES

TECHNOLOGY
Bielany Business Point is managed by a BMS system which ensures full supervision over all the installations in the building and the control of running costs
.
A modern supply-exhaust ventilation and air-conditioning system with VRF, with an individual control option have been applied. A remote backup supply from a power generator is an additional advantage.
The building meets the requirements of low-energy construction. Over-standard parameters of walls and windows (U=0.15 W/(m2K) and U=0.8 W/(m2K)) have been applied.